When Monsters University, the prequel to Monsters Inc., was released in 2013 I was very skeptical and concerned that Pixar would ruin what was an amazing film. Obviously I was proven very wrong because Monsters University was a great movie about Mike Wazowski and James P. Sullivan's experience at Monsters University and their journey to becoming the top scarers at Monsters Inc. Anyone who went to college or university would probably agree that Monsters University pretty much nailed the frosh/freshers experience. The freshman experience is incredibly exciting, fun, and filled with endless possibilities, but can also involve some awkward and difficult times, especially when you're trying to meet new people and find your way.
When Wazowski and Sullivan first meet, they immediately butt heads and begin a rivalry that leads to both of them failing their final year exam and getting kicked out of the scare program. To win back their places in the scare program, both Mike and Sully join Oozma Kappa, a fraternity of misfit monsters, so that they can enter the Scare Games to win back their places in the scare program. Miraculously Oozma Kappa managed to remain in the competition and found themselves invited to a frat party where they end up getting pranked, slimed, and voted 'the most adorable monsters on campus.'
Now Mondo Toys have created Slimy Figurine Monster Plungers so that we can get revenge and slime 6 different exclusive monster figurines ourselves. I wasn't too sure about how well the slime and plunger would work, but I figured that even if the toy was a dud I would still get some cute, collective Monster figures out of it and win either way. According to the little leaflet in the package, we can stretch, throw, squash, and dangle the slime.
[embedyt] http://www.youtube.com/watch?v=KLxo_zucJsM[/embedyt]
[embedyt] http://www.youtube.com/watch?v=vxRm-w1MWj4[/embedyt]
As you can see from the video, the slime for my figurines was very, very thin and watery. I thought the slime may have melted because it was too hot either in the store or in my home so I gave the slime another chance by putting a package in the fridge to cool it down and thicken it up. Unfortunately after hours in the fridge, the slime was still just purple water. Luckily I bought a few packages and the next one I opened did have slime that was thick and gooey. The bad news is the slime was too thick and didn't really slime the figure, it just touched the figure and knocked it over. Unfortunately I couldn't get the slime just right.
I was quite disappointed that I could never get my slime just right 🙁 After doing some research, I found that those who
purchased the slime machine, which is a separate toy that is meant to be used to slime the different figurines you collect, also had trouble with the slime being too thick, the handle being too noisy, and sometimes the handle did not work at all. This is a shame because the figurines themselves are very well made and are very detailed. The figures are approximately 2 inches high and I have happily included them in my toy display.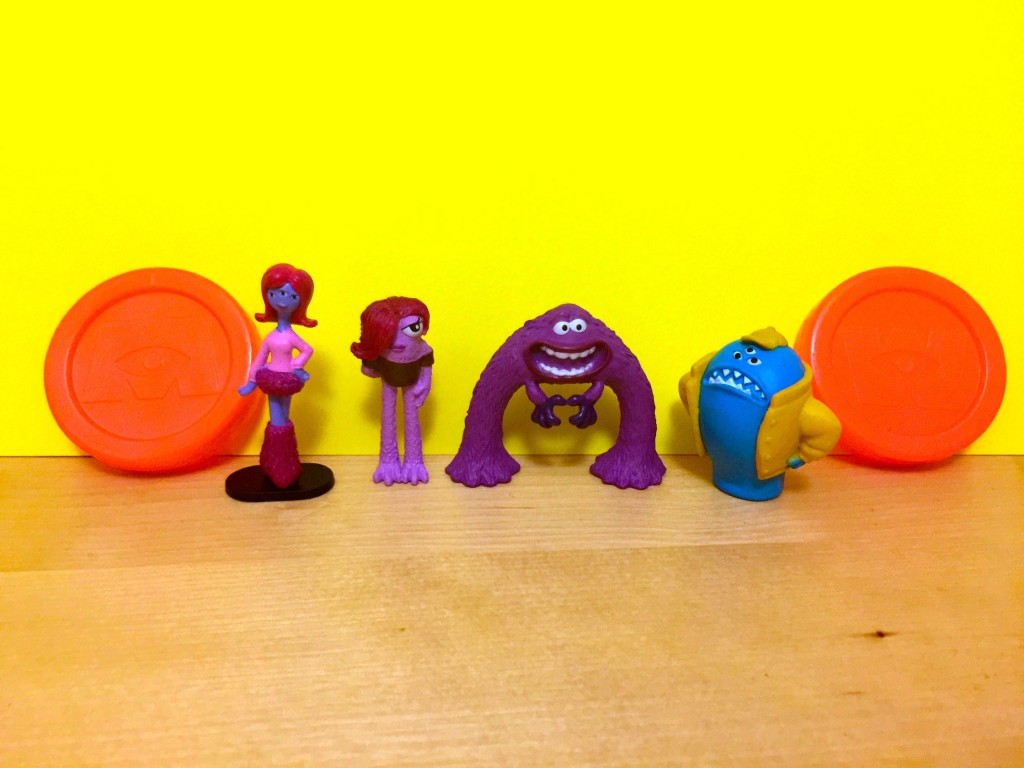 I would have to say the verdict for this toy is that for the purposes of playing with the toys and sliming the figurines, I would pass on this toy. However, the figurines that are accompanied by the monster plungers can be found for a very reasonable price and I would recommend picking these toys up for anyone who enjoys collecting and displaying these figurines.