When you think about Sebastian, you just can't help but start to sing Under the Sea in your head! Sebastian is an incredibly lovable Disney sidekick, and although he tries to be serious and distance himself from trouble, he clearly loves an adventure filled with sing-alongs! I can't think of anyone who wouldn't want to have Sebastian by their side. Now with this Disney Store Sebastian plushie, you can bring Sebastian home and keep him by your side whenever you want.
Disney plush toys are practically impossible to resist. They are so adorable and incredibly well made. It is very tempting to create a wall of Disney plush toys at home to feel like you're in the Disney Store all the time. Since I had already purchased the Disney Store Flounder plushie,I just had to complete the duo.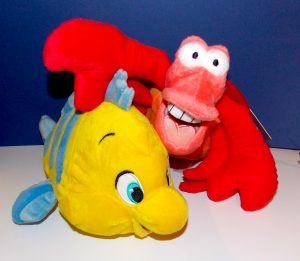 Tell me more!
✧ Sebastian is a small bean bag plushie. He is very soft and the beans are hardly noticeable with only a small portion of beans at the back of the plushie. The plushie definitely feels more like a normal plush toy as you can hardly feel the beans at all.
✧Sebastian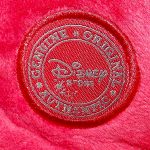 is approximately 11 inches long from the back of his shell to the end of his claw and 11 inches wide from leg to leg.
✧Sebastian can be displayed on his belly as if he is crawling across the table or you can prop him up on his claws for a better view of his face.
✧There is a Genuine Authentic Disney Store patch on Sebastian's shell. I think this is a great spot to place the patch as most Disney fans like to have this patch displayed.
✧The only embroidered details are the details inside Sebastian's mouth.
For Disney and Toy Collectors
I think any Disney fan would love this Sebastian plushie and it is easier to display than the larger Disney Store plush toys. I think you could display Sebastian on a shelf, on your bed, on a nightstand, or even on your desk. If you really want the Ariel experience, why not keep him at the foot of your bed?
If you do decide to pick up this Sebastian plushie, I highly reccomend, I highly reccomend picking up Flounder as well. They are of a similar size and just look absolutely adorable together.
For the Little Ones
Obviously this Sebastian plushie is not just a collector's piece, he is a great pal for your little one as well. He is soft, cuddly, and the perfect size for travel. Also, if your little one needs a bedtime pal, Sebastian would be great for the nightstand next to a lamp.
Where can I get Sebastian?
Sebastian is a Disney Store plush so your best bet is your local Disney Store. He is also available on the Disney Store website. At the time of this post, there are plenty available. If you're not able to track him down, there is always eBay and Amazon, however please do not pay much more than £12.00 or $14.99 USD.
If you're a Little Mermaid fan and you're looking for a cute cuddly pal to display, definitely pick up this Sebastian toy. Disney Store plushies are great pieces for any Disney collection. Also, don't forget to pick up Flounder as well so Sebastian doesn't get lonely!