Mr. Potato Head is a classic so it is no surprise that he made his Hollywood debut in Andy's bedroom in 1995.  There is no shortage of the Playskool Mr. Potato Heads nowadays, however getting your hands on the Toy Story Collection with part popping action proves to be no easy task. He usually pops up on eBay, but to get one mint in the box will definitely cost you an arm and a leg as he has become quite rare. As much as I love keeping my Toy Story Collection toys in their boxes for display, keeping the Toy Story Collection Mr. Potato Head in the box seems an absolute shame because not only is he the only movie-accurate Mr. Potato Head, but he is an absolute joy to play with.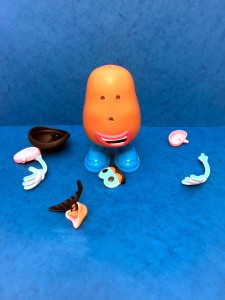 The Toy Story Collection version of Mr. Potato Head has a removable hat, eyes (normal and angry of course), mouth (again, happy and angry), arms, ears, and nose with attached moustache. His legs are not removable and the instructions make it clear that we should not try to remove them. There are a lot of different types of Mr. Potato Heads out there, but parts from other Mr. Potato Heads will not work with this toy. This toy is voice activated and will respond to your voice in the play mode. To activate him, you simply push down on his hat. When he speaks, all his parts rotate and move. Of course the best bit is when you clap or make loud noises, he gets scared and all his parts pop out and he says his classic line, "Hey look, I'm Picasso!"
Although getting this toy now may cost an arm and a leg, I definitely think it is worth keeping an eye out online for a good price (especially on the used ones) as he is the only movie-accurate Mr. Potato Head and a must need for any Toy Story Collection. He looks stunning on display and is loads of fun to play with for all ages, young and old!