Up is a beautiful story told my Pixar and I wish there was more merchandise out there for Disney toy collectors. When I saw Carl was included in Series 3 of the Monogram International Disney Figural Keyrings, I just had to have him.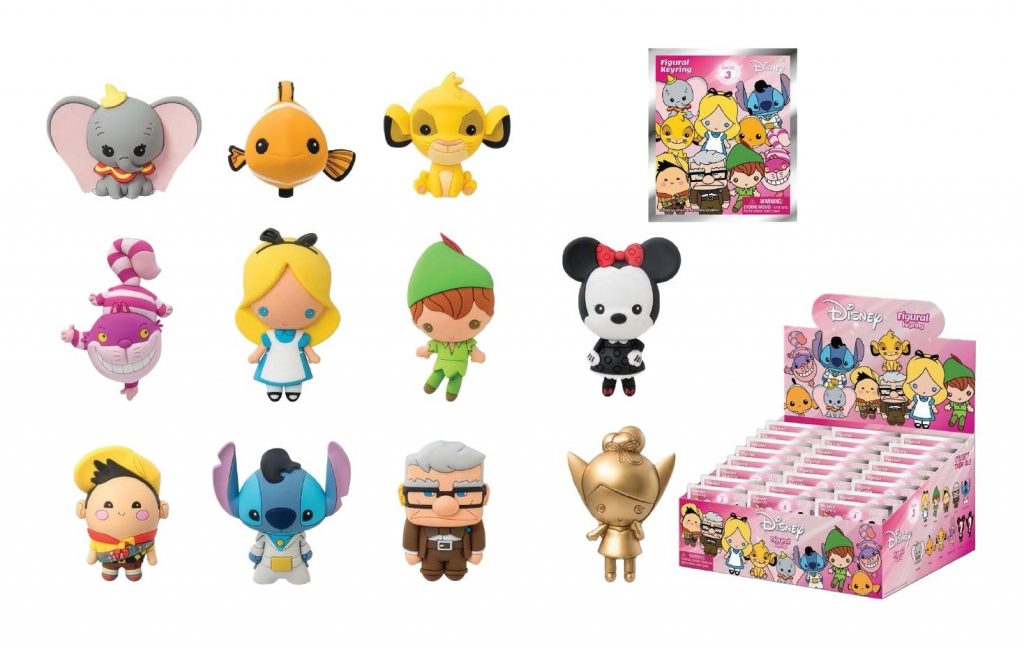 Disney Figural Keyring bling bags by Monogram International are incredibly unique and adorable. I wish I could collect them all! While they are readily available in the US and Canada, they are a little more tricky to find in the UK. Luckily I can see more and more popping up across different comic book stores in the UK.
Series 3
The Disney Figural Keyrings Series 3 includes: Dumbo, Nemo, Simba, Cheshire Cat, Alice, Peter Pan, Russell, Elvis Stitch, and Carl. It also includes two chaser figures, a vintage style Minnie Mouse and a gold Tinkerbell.
I think it's great Carl has been included in this series because there isn't enough merchandise of this underrated character. Carl is a character that immediately makes you think "awwww" and is definite highlight of this series.
Description
Carl has a very square shaped head and body just as he did in the movie. He has a big head with big bushy grey eyebrows, big black glasses, and a big round nose. He also has a very grumpy look on his face just as he did in the movie. The detailing on this figural keyring has a very cartoonish look and it looks absolutely amazing.
Carl is wearing his lovely bow-tie and there is a round little purple circle on his jacket which of course is the grape soda pin. The detailing of the jacket, bow-tie, and belt are beautifully done and I wouldn't change a thing. While there may not be a lot of white on this vinyl keychain, it will get dirty and scratched if used as a keychain. I think this figure is too cute and well made to be used as a keychain, but the choice if of course all yours! You can take it out for adventures with you everywhere you go or display it proudly in your collection.
Where can I get Carl?
If you live in the US or Canada, these blind bags can be found in stores such as Hot Topic, Claires, and EB Games. Your local comic book stores will likely stock them as well.
In the UK, it gets a little more difficult. I managed to find some blind bags in Forbidden Planet in London and Birmingham.
Obviously you can also find these figures on eBay and Amazon, especially if you're looking for a specific character.
If you're an Up fan and are looking for some Up merch, this figural keychain is definitely worth the purchase. He is very well made and looks absolutely adorable.