If you're a Disney fan who hasn't started watching Once Upon a Time yet, you need to start now! Some may argue that it is a tad cheesy, but it is fantastic. Rumpelstiltskin may be the evil dark lord in the show but you just can't help but love him and his signature little giggle. When I discovered that a Funko Pop existed for this character, I knew I had to have him! He is without a doubt my favourite character on the show.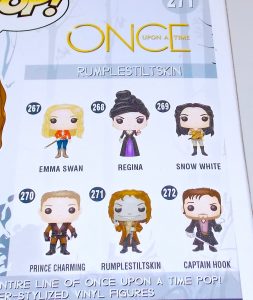 This Rumpelstiltskin Pop is part of the Once Upon a Time series which includes Emma Swan, Regina, Snow White, Prince Charming, Rumpelstiltskin, and Captain Hook. The showstopper in this series is definitely Rumpelstiltskin because he's lovable, sparkly, and unique
Description
✧ The most distinctive feature of this Pop is definitely Rumpelstiltskin's sparkly skin. His skin is covered in warm coloured glitter just as it is in the television show. This definitely makes this adorable Pop stand out amongst the other Pops in your collection.
✧ Rumpelstiltskin's teeth are have a yellow tone to them just as they do in the show. All OUAT watchers know Rumpelstiltskin's need some serious work, but we still love him anyways.
✧ Rumpel is wearing black pants, black boots, a brown leather vest with gold buttons, and a tailored maroon coat with gold button details. The gold buttons on his clothing is definitely a nice touch and just adds a little something.
✧ One of the most amazing features of this Pop is that Rumpelstiltskin is holding the dagger in his hands and it is "engraved" (printed) with Rumpelstiltskin's name in black. This is a lovely prop detail from the show and it is something that really brings this pop together.
Rarity
Luckily this amazing character is not an exclusive or chase figure which means it is relatively easy find, especially online. When I was looking to purchase Rumpel, many stores had sold out of this Pop but I was able to find it very easily on eBay for a very fair price. I paid exactly what you would pay for any common Pop in the store and I had plenty of sellers to choose from. I know many people seek rare, exclusive Pops but I think it's great when a well loved character is readily available to everyone so everyone can enjoy. These figures are made for fans, not investors.
If you love Once Upon a Time and are a Rumpelstiltskin, it is definitely worth picking up this Pop. I know Rumpel would definitely approve because nobody would understand your love for adorable things! 🙂